There is no better representation of seeing what Pixel & Code can deliver than by looking at some of our past work. We invite you to explore our variety of websites, logo designs, and other print material. Every single project is unique and we pride ourselves on being chameleons and adopting to the needs of our client. So whether your brand is professional and refined or playful and inviting, we'll be sure to capture the voice of your company in any of our creative collaborations.
Your Friendly Neighborhood Design & Development Team
Hello and welcome! Pixel & Code Studio is a husband and wife partnership between Vanessa "Pixel" Lambert and Bruce "Code" Lambert. Pixel specializes in everything creative: from web design to marketing and branding. Code handles all things tech-related including making sure your website is found on Google. Together, we offer an endless array of services, to help you grow your business. Our services include: web design, web development, SEO, marketing and print design, social media, photography and IT services.
We've taken all the best experiences, tips and practices from our years in the agency world and refined them to bring our clients the top-notch service and expertise you'd expect from working with an agency with a small-town, personalized touch.
Meet Vanessa
Designer/Marketing Guru
I am the creative. I pride myself on my ability to stay current on industry standards and design trends. Because of my unyielding commitment to my craft, I am able to provide our clients with a large scope of creative services including design for web and print, logos, social media, copywriting, photography and more!
Meet Bruce
Developer/Tech Whiz
I'm a web developer who has been building websites and various web applications since 2005. I have worked with dozens of clients across the country to help them bring unique web experiences to life. I specialize in both front and back end and am well-versed in CSS, PHP, HTML, Java Script, among others.
What to Expect When Working with Us
The Anatomy of a Husband and Wife Duo
So. Much. Heart.

First and foremost: we pour our hearts into everything that we do. We take so much pride and joy into refining our craft. You can bet that our passion is reflected in the quality of work and the level of service that we deliver.

Everything Under One Roof

Literally. We are one family and one unified voice. When you share info with us, we keep one another in the loop so your requests will never get lost in translation. With us, it's like getting a project manager, designer, developer and account manager bundled into one. Voilà – a much more simplified process.

That Personal Touch

Accessibility and responsiveness is extremely important to us. Each of our clients gets a direct line to our personal cellphones so they can call, email or text. (We've even been known to respond to clients as late as 2am!)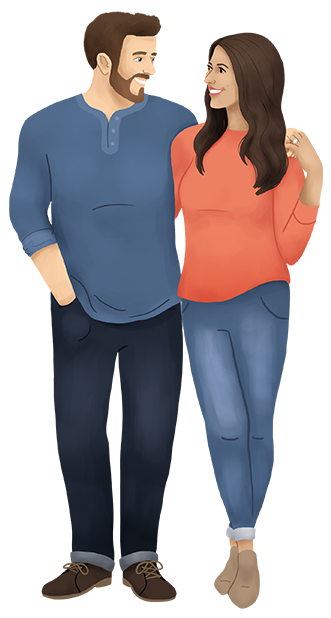 Importance of Teamwork

The dynamic between Pixel & Code tends to be a big selling point for us. We bring fun, we bring creativity and we bring the kind of team-oriented vibes that only the closest of two partners can bring to the table.

Cultivating Long Term Relationships

We take the time get to know you and your business and understand your brand. Our goal is to cultivate a long-lasting relationship with each one of our clients.

Community Ambassadors

We are active in the community through a variety of networking organizations. More often than not, we end up becoming ambassadors for the brands we work with, helping to grow your business through positive word of mouth in the community as well as across social media.
Websites are store fronts that never close. Make sure that yours is an accurate reflection of all the great services you offer. We offer free consultations, so it's as quick as hopping on a call to see if we might be the right fit to help you take your web presence to the next level.